About
MFPTC is a training and consulting centre located within Morogoro municipality in Tanzania. It is a registered business name no.229112 of 1st November 2011. It has a production facility for skills training that is currently supporting 12 Enterpreneurs in Morogoro. Through training on processing of its products MFPTC promotes the concept of commercial production of safe and high quality products to meet the demands of customers. After several years of experience in food the food industry, the demand for training of groups and individuals in various food production technologies, has increased. MFPCI is also a registered tax payer with Tax Identification Number (TIN) no. 115-793-217.
Goals
Intimidating and enabling conglomerates and non-Conglomerates to produce quality processed products and meet the needs of the domestic and foreign market at high level of compititive advantage.
Mission
Our Mission

MFPCI mission is to engage and build capacity of MFPCI members, suppliers of raw materials and all actors along the value chain to promote production of safe and high quality products in a cost effective manner so as to increase incomes, food security and improve their livelihoods in general
Objectives
OUR OBJECTIVES.
To promote cooperation among cluster members and enhance business growth through competition

To achieve business growth for individual enterprises through training organized by the Cluster.

To contribute to farmers and traders income through market created for their raw materials

To contribute to food and nutrition security of Tanzanians and region by making available food during period of scarcity

To promote good agricultural, hygienic and manufacturing practices among actors along value chain.
Challenges
CHALLENGES
Lack of capital
Incomplete common processing facility

Lack of TBS certification for some products
MFPCI's News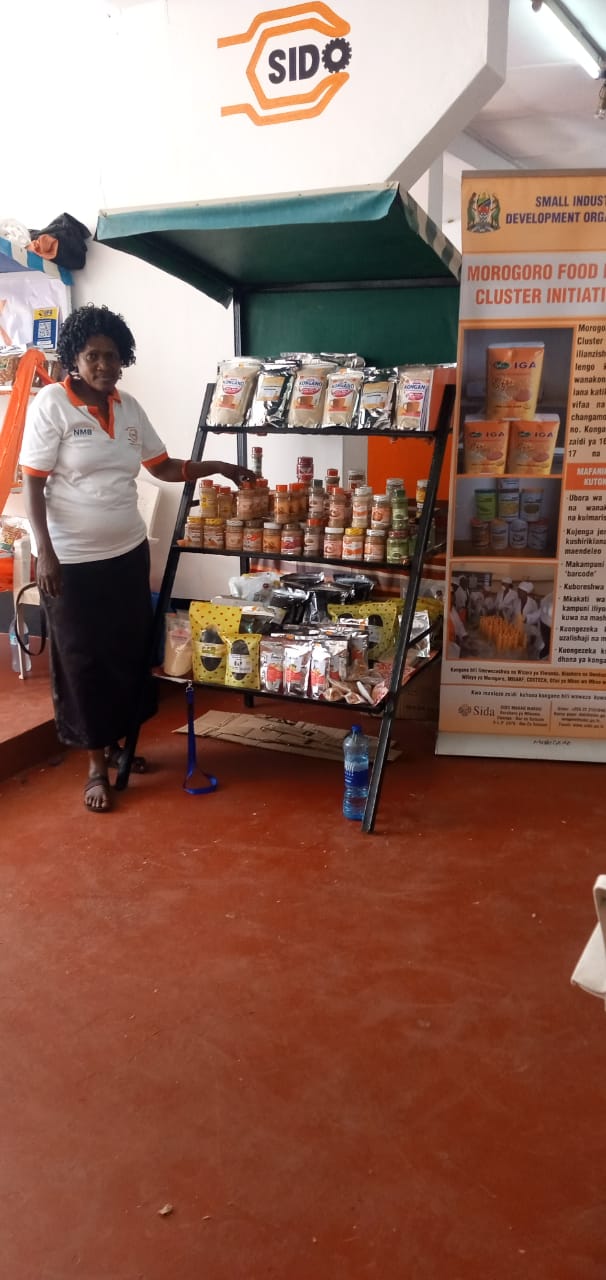 Wed, Oct 12, 2022 7:27 AM
successful
Contact Us
| | |
| --- | --- |
| Name | Morogoro Food Processors Cluster Initiative (mfpci) |
| Email | mfptcmoro@gmail.com |
| Phone number | 0754476410 |
| Address | Morogoro |
| Location | P.O.BOX 3254 |
| Region | Morogoro |
| District | Morogoro Mjini |
| Ward | Kihonda |
Firms
| # | Name | Activity |
| --- | --- | --- |
| 1 | Kihonda Food Processing Business Vocational Education Training Centre (Food-VETC) | Food-VETC is engaged in provision of processed and packaged products as well as training services in all aspects of food business operations. Currently is focus is on producing high quality and safe nutritious composite flour as complementary food and dried fruits. Training that targets potential and practicing food processors or engaged in similar services such as catering focuses on regulatory issues and technology. Emphasis is put on food quality and safety management. |
| 2 | Mkwajuni Youth Group | Producing fresh and dried vegetables; 1. amaranth 2. tomato 3. chines cabbage |
| 3 | Saadan Food | Nutritional spices and drying vegetables |
| 4 | Raha Leo | Producing nutritional flours and species |
| 5 | Search Food | Producing Mbilimbi Pickle, Garlic paste, Mangle Pickle, Nutritional species and Honey |
| 6 | Mude | Producing Mushroom Flour, Fresh Mushroom and Soya Flour |
| 7 | Maxeo | Producing Peanut butter, Fruits Jam, Nutritional Flour and Tomato Paste |
| 8 | Kuntam | Producing Dry Fruit |
| 9 | Mbamba | Producing Mbilimbi Pickle, Garlic Paste, Mango Pickle and Nutritional Flour |
| 10 | Nyampamba | Producing Tomato Paste and Nutritional Flour |
| 11 | Morogoro breweries limited | Production of Abantu bear and nutritious flour. |